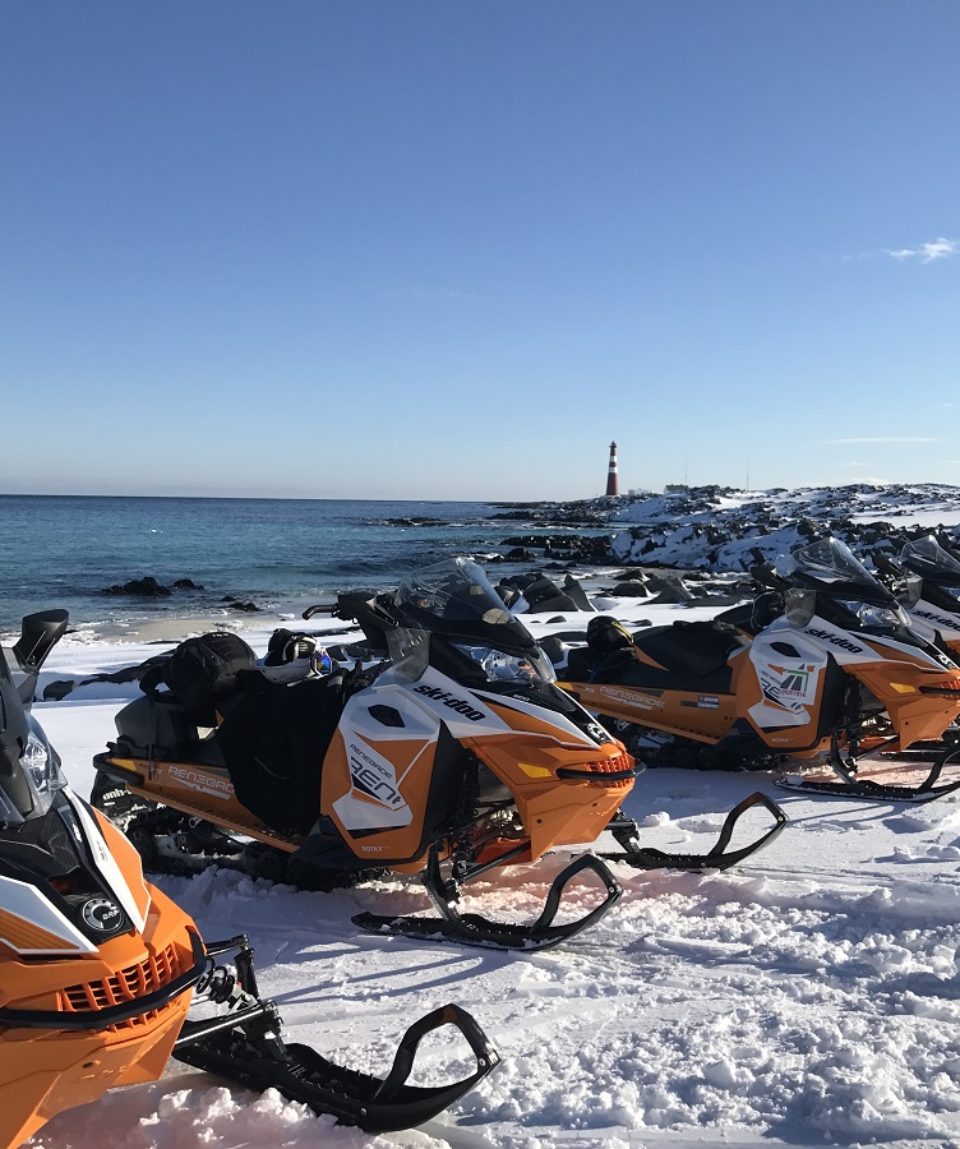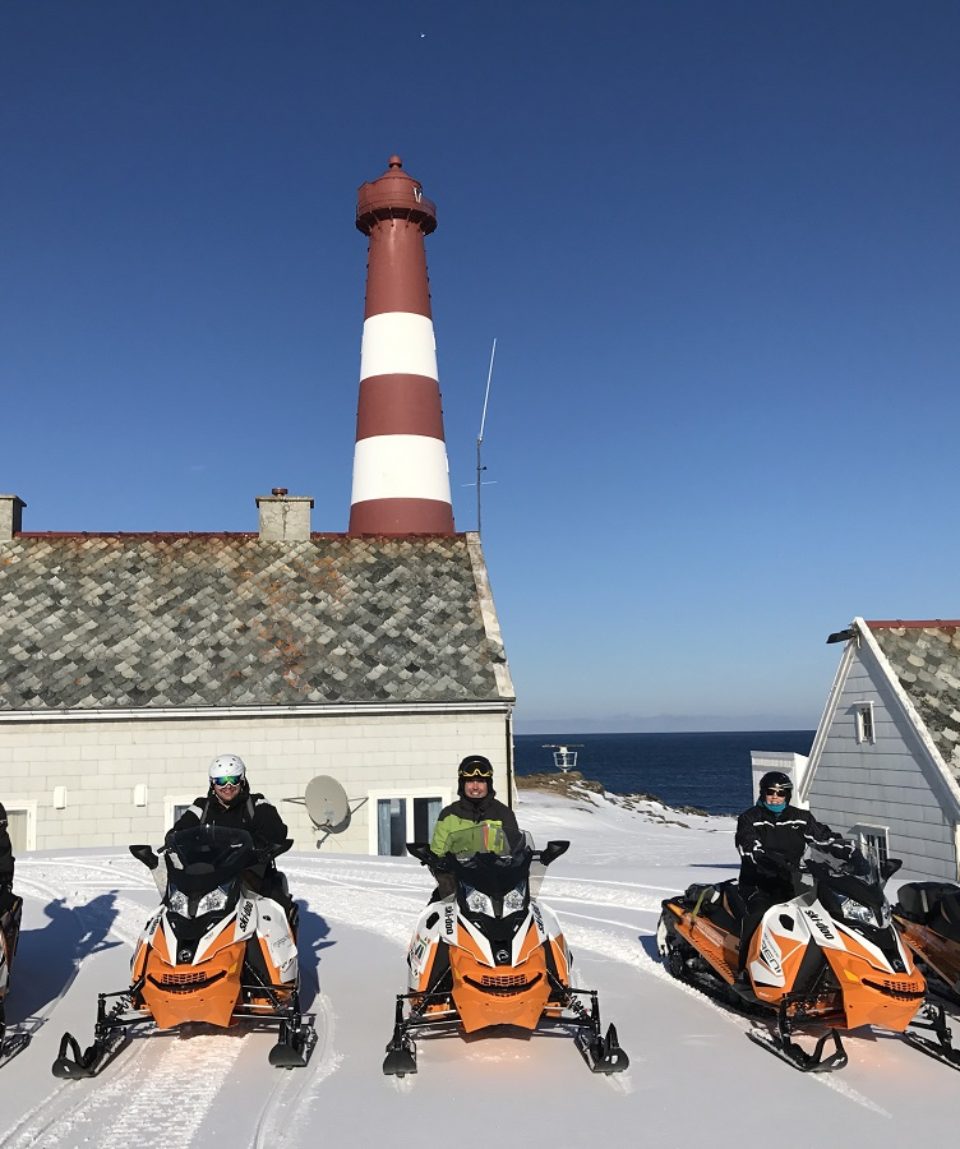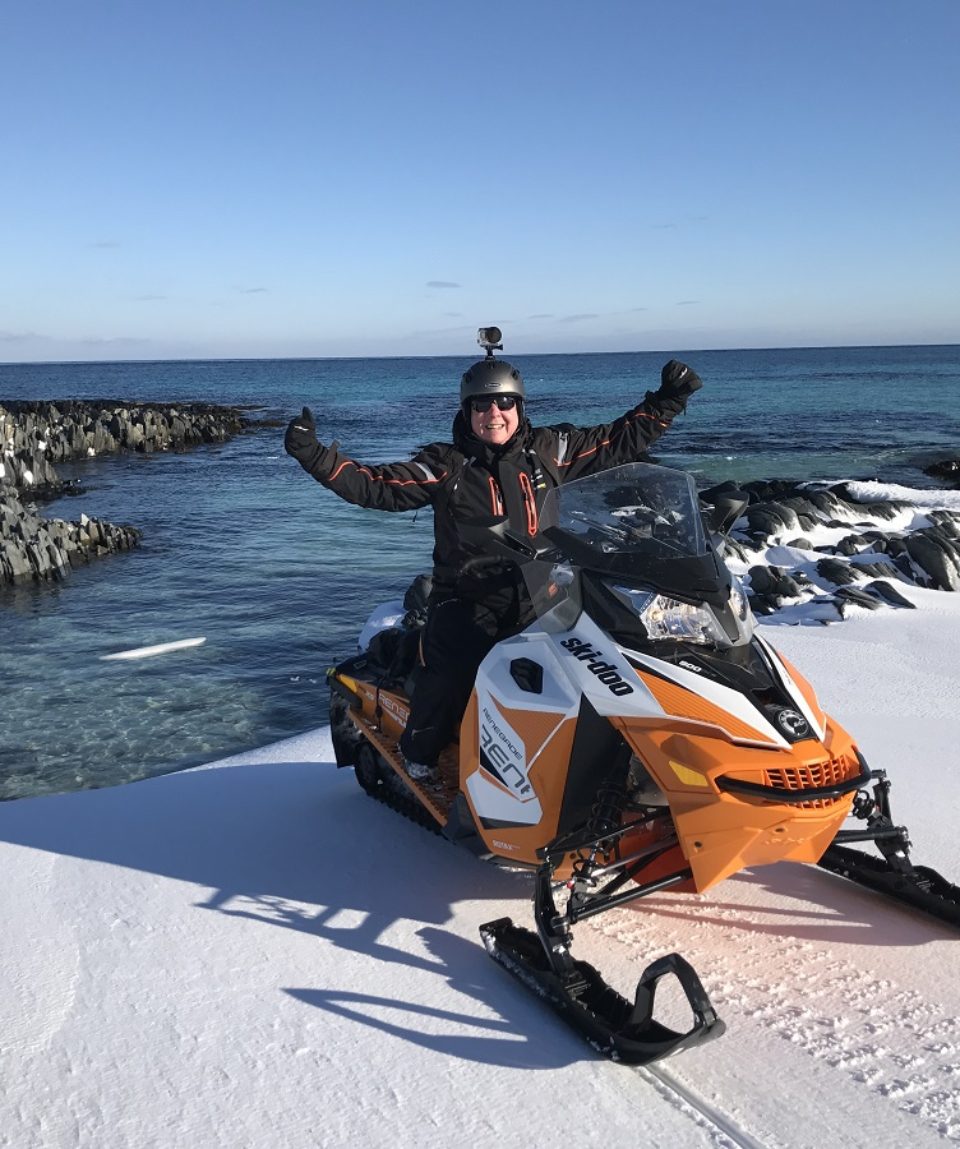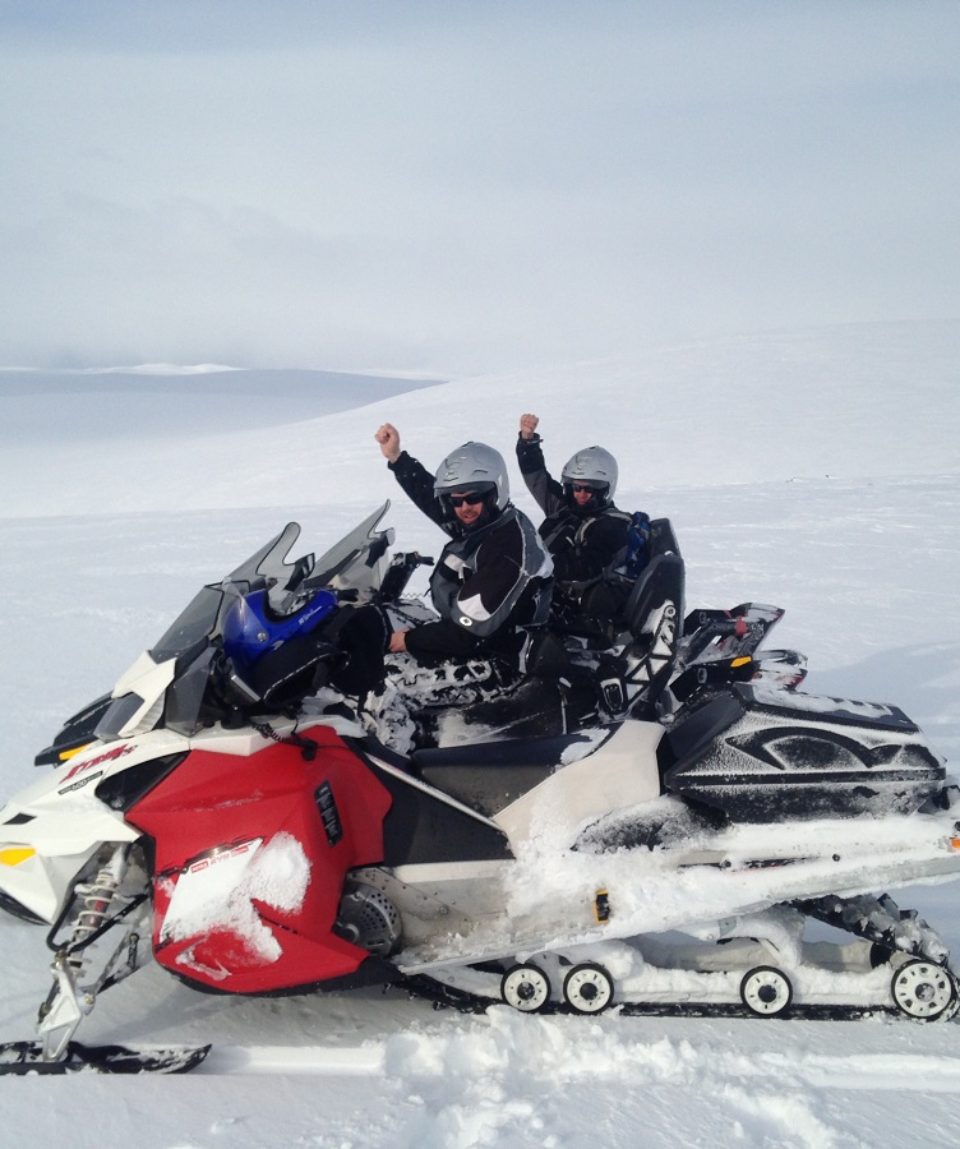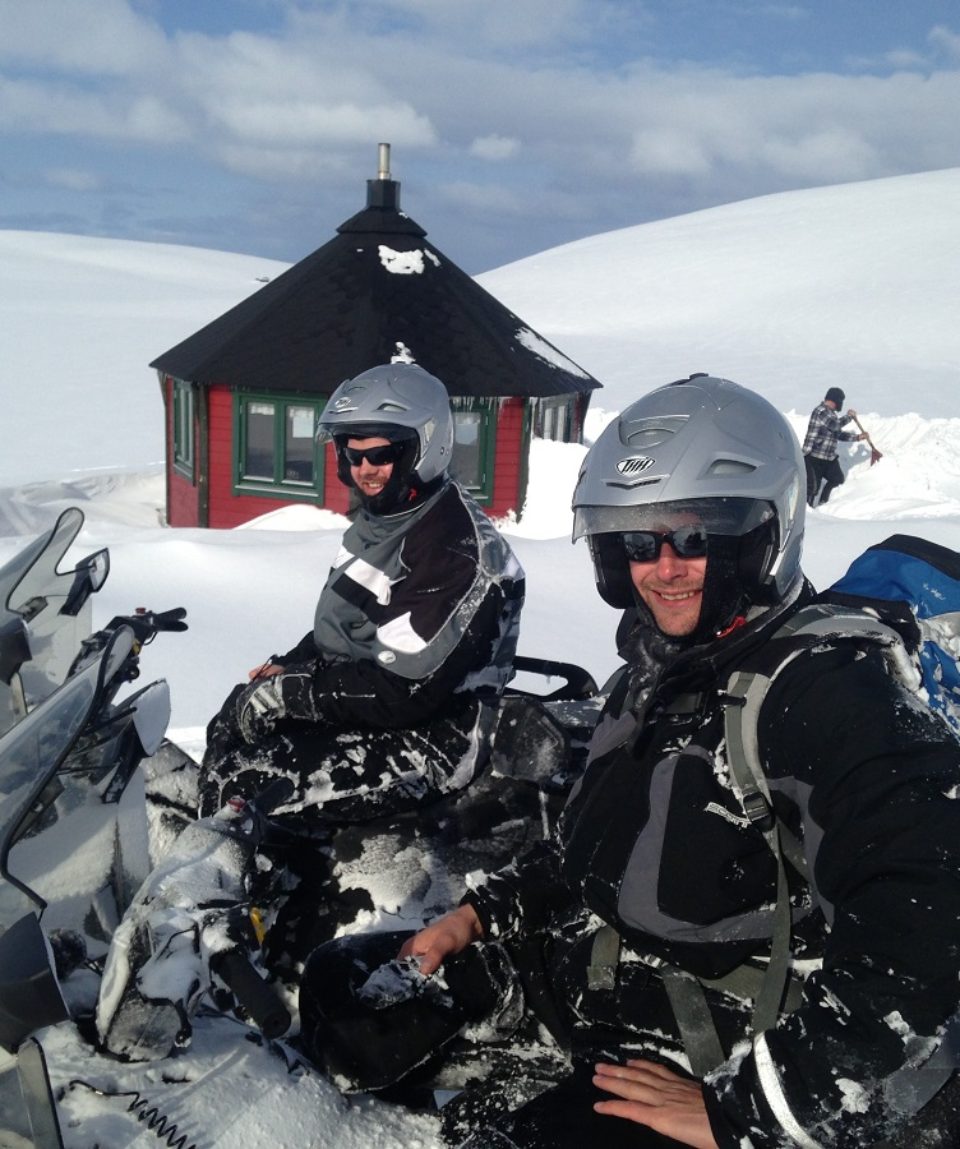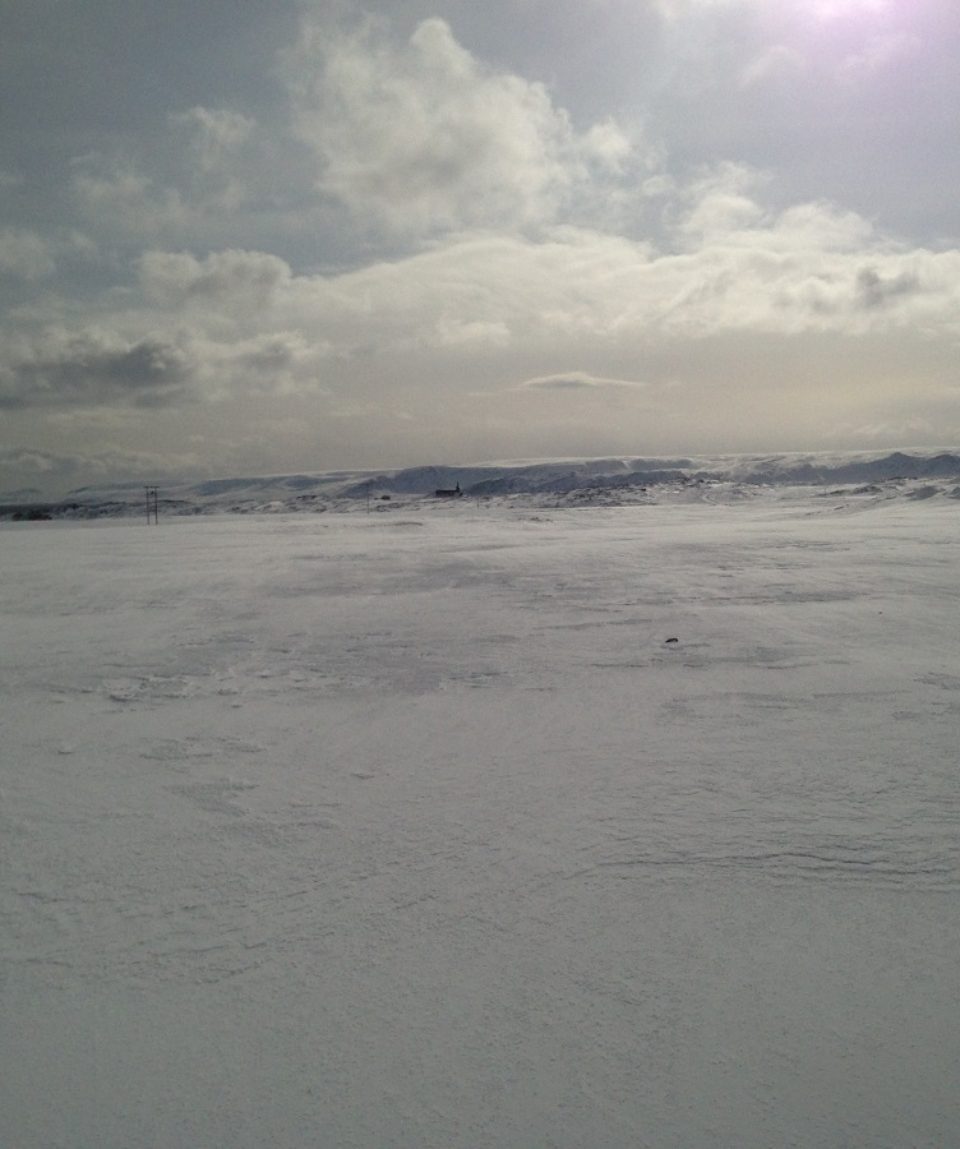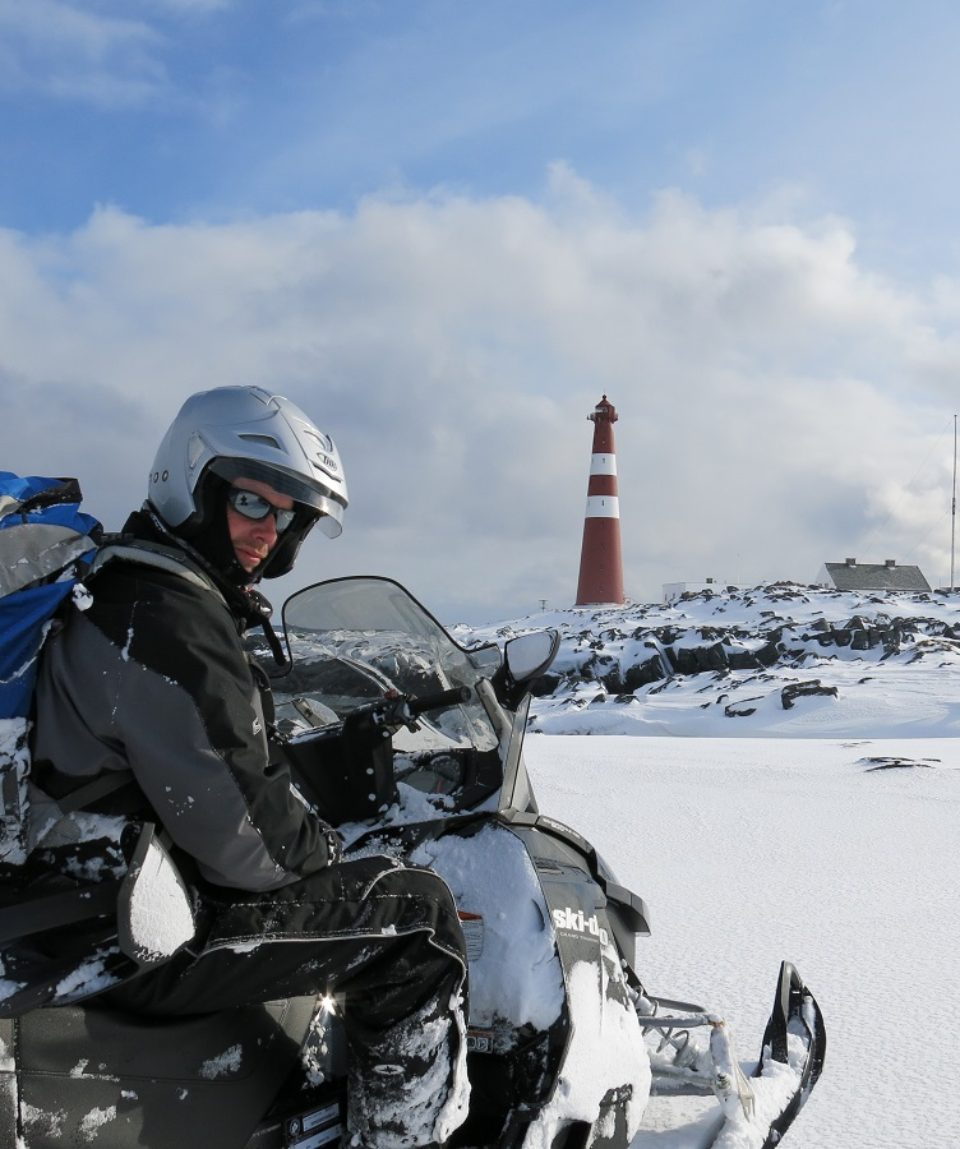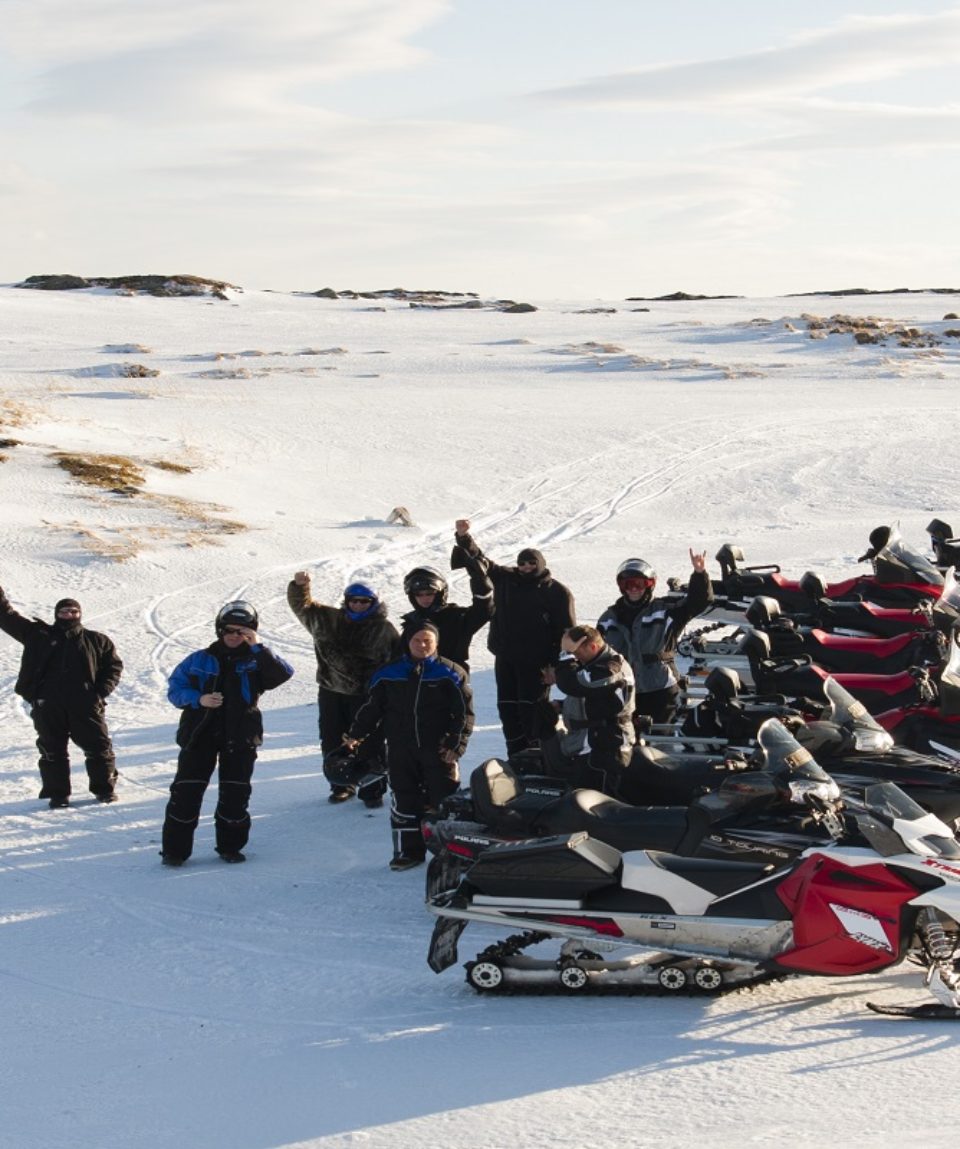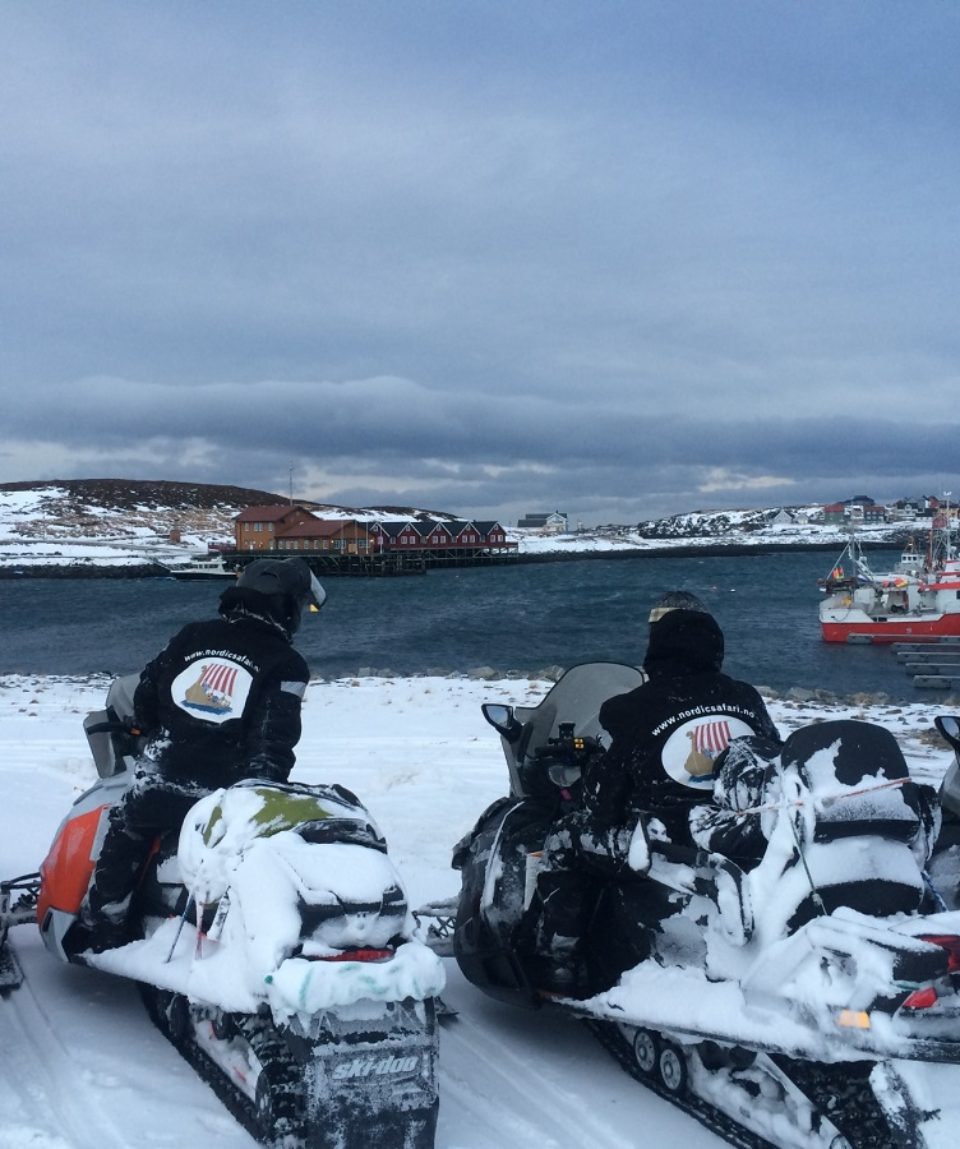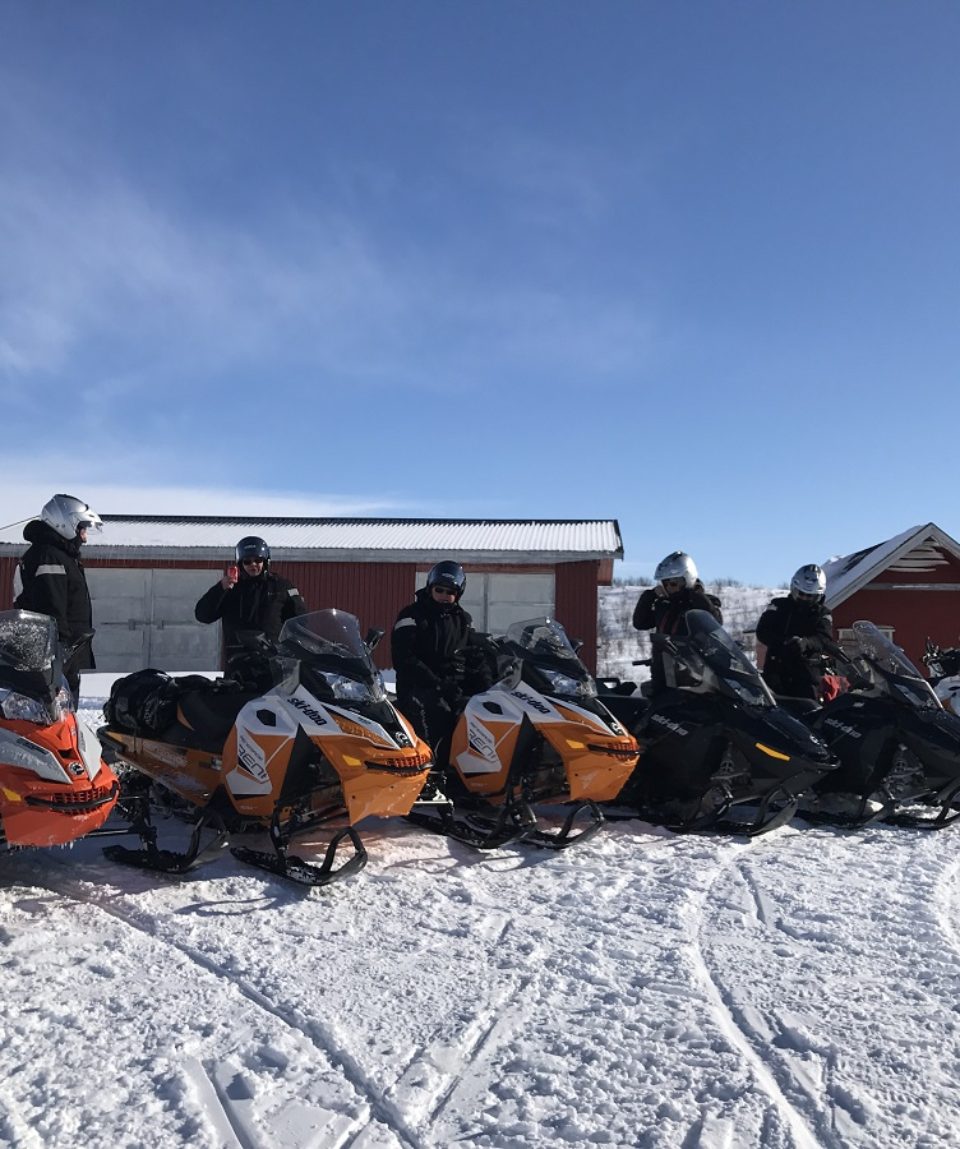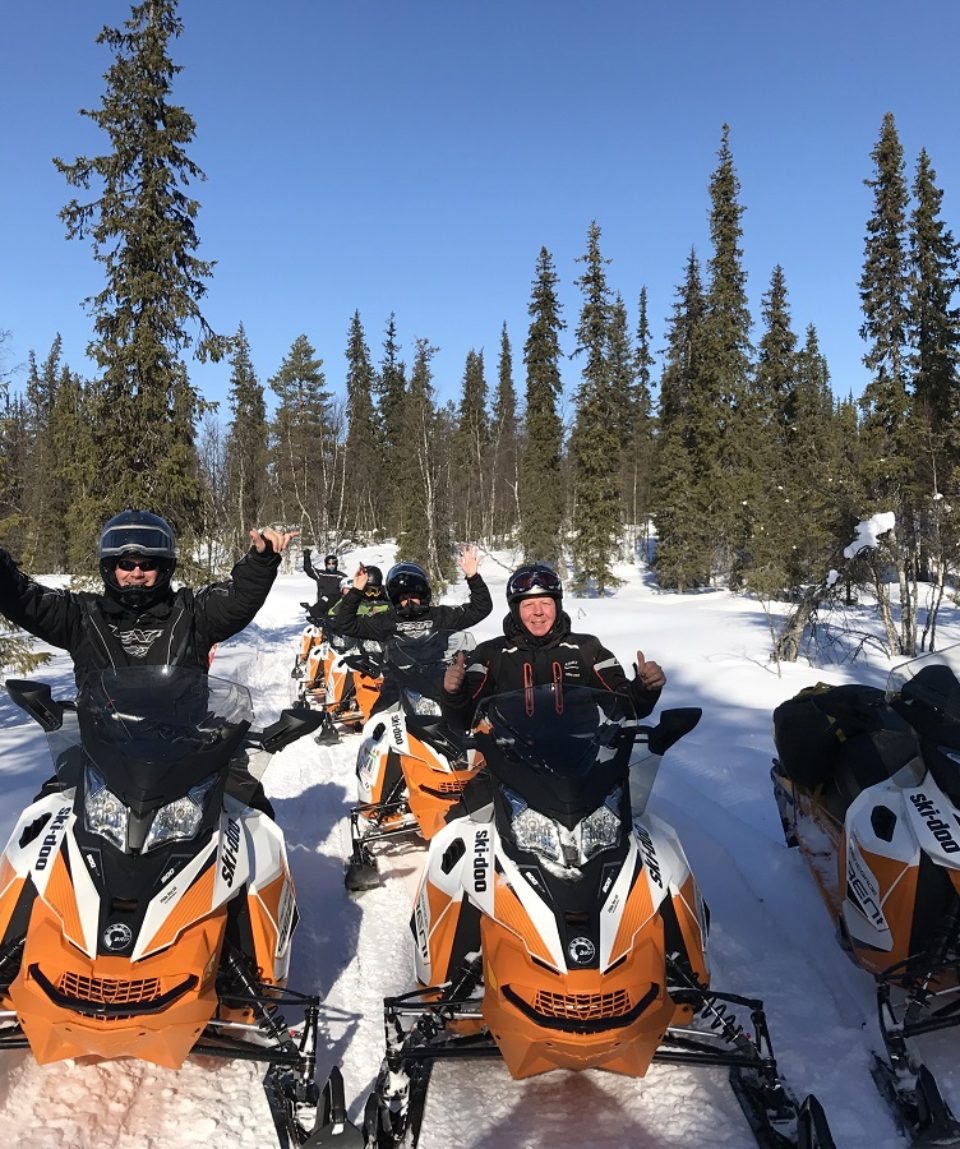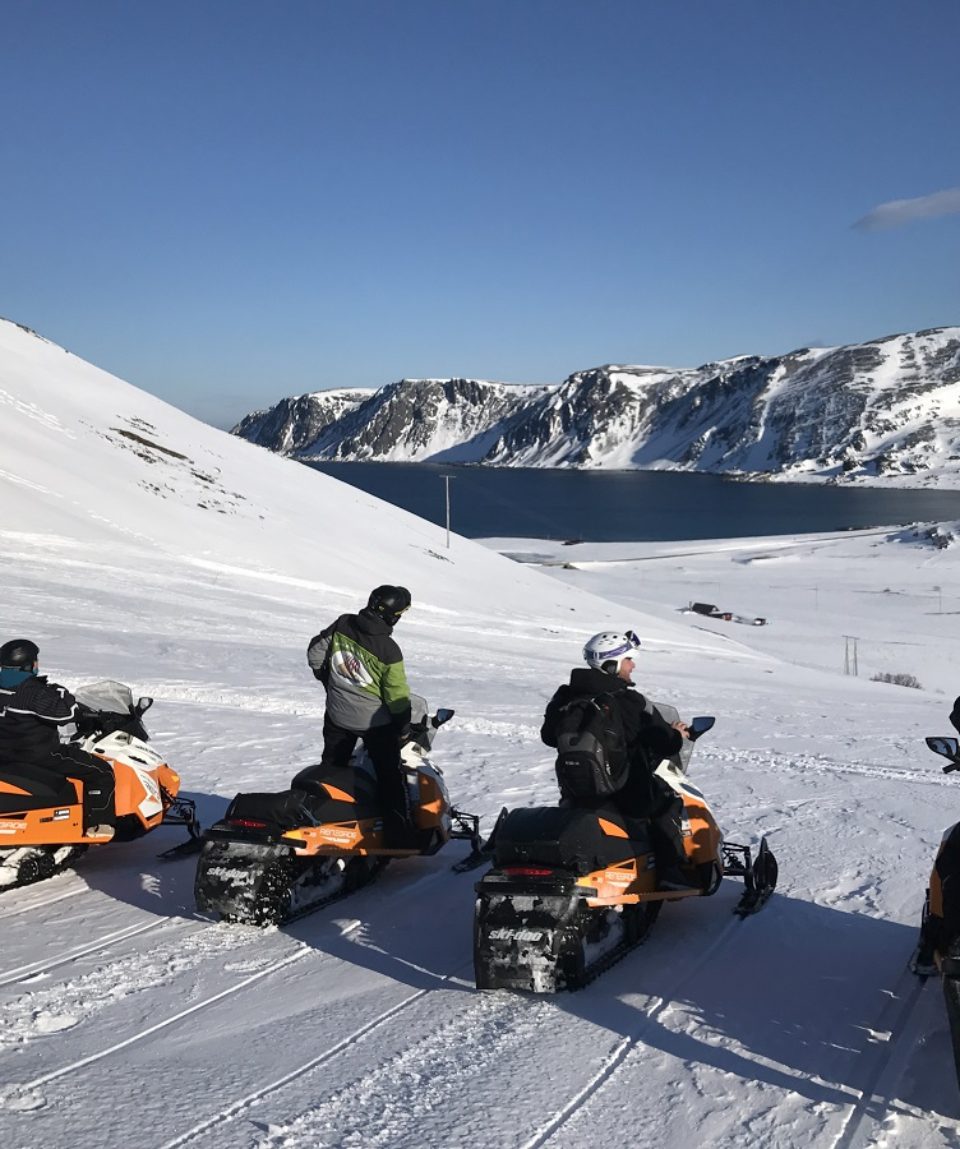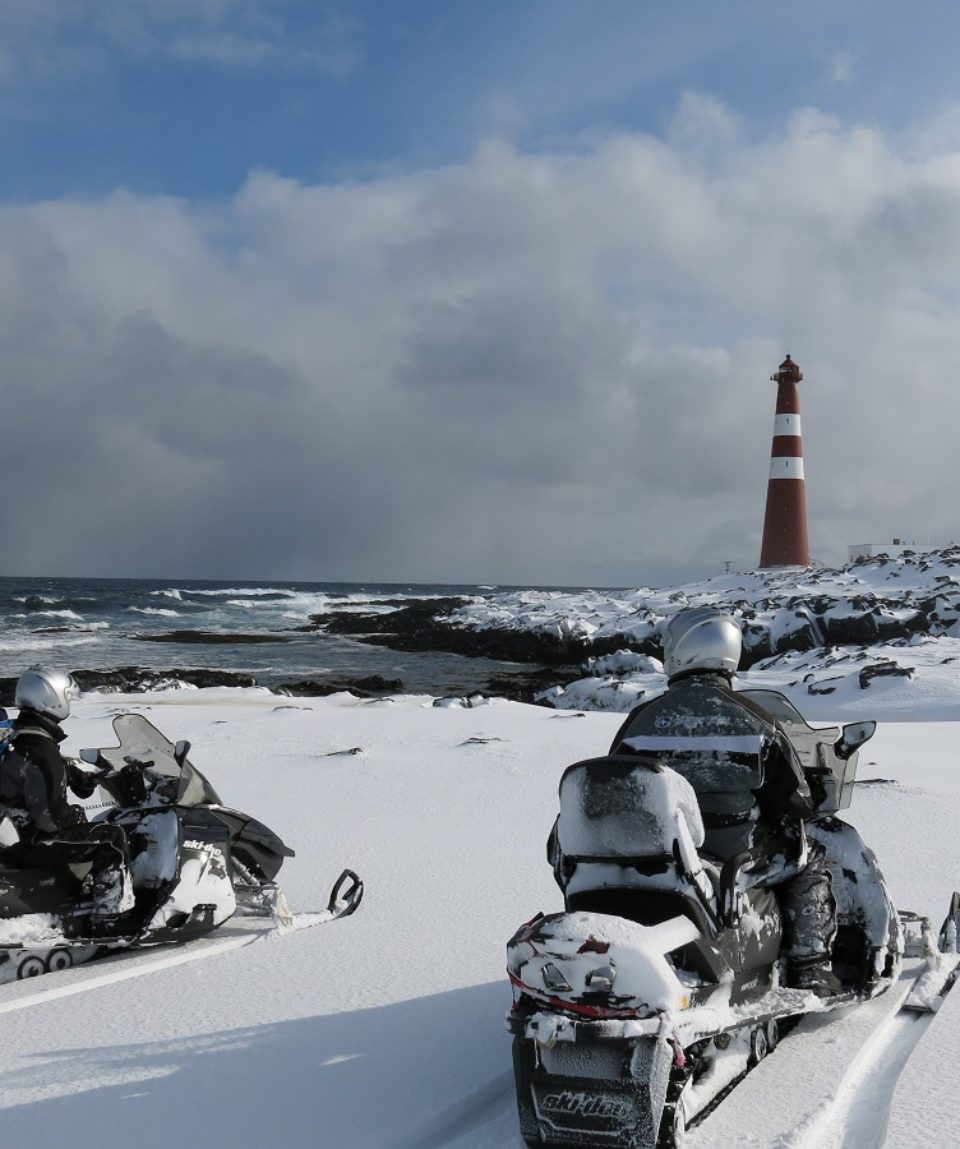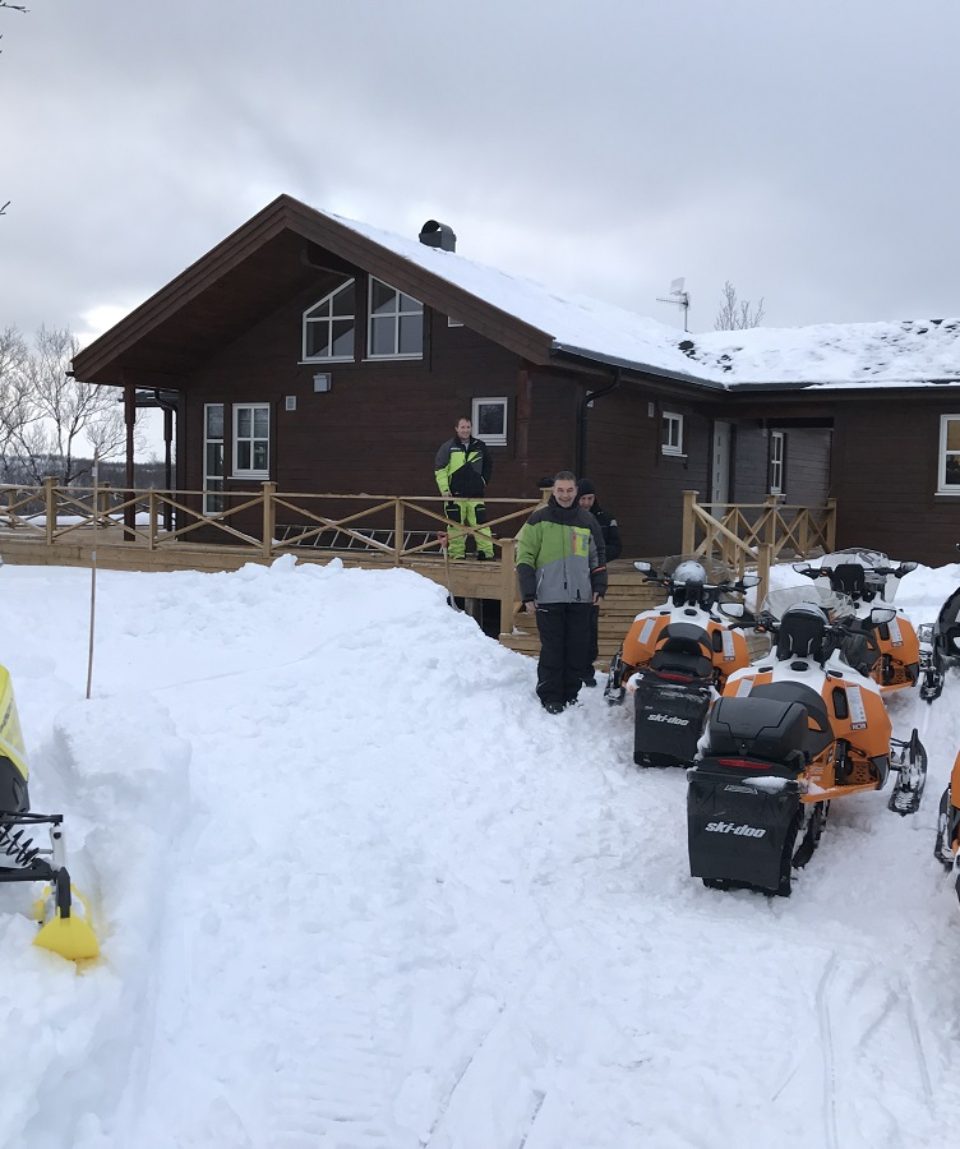 Snowmobile Safari
From: kr 2.300,00
All about the Snowmobile Safari.
Welcome to an unforgetable expedition to the most extreme and exciting nature area of the European continent. The perfect surroundings for good ideas and strategy conferences. Snowmobile trails that crosses breathtaking panoramas You cannot even imagine. High mountains, deep canyons, chrystal clear blue  Arctic Sea water when driving along the typical Norwegian fjords. Excellent food based on local traditions in maritime environment often served on board the ship called "Hurtigruten", the famous coastal. All these exiciting adventures presented and guided by Vidar the Viking, local Norwegian guide living at Mehamn, the northernmost fishing village of the world express of Norway.
The tour package inclusions and exclusions at a glance
What is included in this tour?
Items that are included in the cost of tour price.
Price includes:
4 overnights
3 lunches
4 dinners
Boat tickets
Snowmobile/clothing rents & gasoline
Vidar the Vikings guide services.
Day 1, Thursday

Arrival at Location

Arrival at Kirkenes airport
Transfer by minibus to our Guesthouse at the Sami village Polmak, situated 5 km.from the border to Finland.
Meeting the guide, Vidar the Viking
Tactical briefing about the expedition
Sauna, outdoor bubble bath and dinner based on local traditions
Overnight in authentic Sami earth cottages with hotel room standard inside.

Day 2, Friday

Polmak - Laggo

Polmak – Laggo
Breakfast
Short snowmobile driving school.
Start from the Guesthouse, driving over The Ifjord mountains, white desert as long as your eyes can see!
Lunch and refueling at Ifjord Guesthouse
Descending down to exciting Laggo valley
Arrive at Laggo mountain lodges.
Time for MEETING & CONFERENCE
Sauna and traditional dinner
Social time and overnight
Day distance 120km

Day 3, Saturday

Laggo - Mehamn

Laggo – Mehamn
Driving along the Arctic Sea fjords, riding over the weather extreme Nordkyn mountains descending through narrow valleys down to the Arctic Ocean seaside
Arriving to the fishing village Kjøllefjord
Lunch at the local hotel
Driving the snowmobiles on board the Coastal Express ship
Exclusive dinner on board at the Captain`s Table
Passing the northernmost point of the European continent,
Cape Nordkyn 71° 8 " Northern latitude
Arrive to Mehamn fishing village, celebration party and overnight at local hotel
Day distance 130 km

Day 4, Sunday

Mehamn - Polmak

Mehamn – Polmak
Breakfast
Driving across exciting mountains with absolute no vegetation to Slettnes lighthouse with Arctic Ocean panorama view.
Crossing 550m high mountains before descending through steep valleys down to sea level again at Skjånes village
Snowmobiles onboard catamaran ship, driving with the high speed comfortable passenger ship, "Tanahorn" to Tana
Lunch onboard
Riding snowmobiles to Polmak Guesthouse
Time for CONFERENCES & MEETING
All AV equipments provided – conference hall for up to 35 persons
Sauna with outdoor bubble bath, dinner and overnight
Day distance 120 km

Day 5, Monday

Departure day

Breakfast
Transfer by minibus to Kirkenes airport
– Flight home
Adventure Camp Mehamn
The Adventure Camp Mehamn is located on the Holmen peninsula just across the Harbour of Mehamn fishing village.
Position: 71.02.00 N – 27.50 E
800 metres from Mehamn Airport.
We can offer 5 high standard  Rorbu Fisherman Cottages with 3 bedrooms , each one With 2 single beds, complete equipped kitchen with dishwasher, living room, wifi, flatscreen tv, wc/bathroom, entrance hall, Separate Storage and drying room for outdoor Equipment / clothes.
Balcony With Furniture and a fantastic panorama view of Mehamn Harbour
In our room department we offer 5 rooms with a shared kitchenette, showers /wc.
Facilities for outdoor wilderness adventures all year around in a relaxing atmosphere with a panoramic view over the village of Mehamn and the Barents Sea.
Adventure Camp in Mehamn:
18 separate camping car parking places with electricity, wifi and service room for all campers
Wifi
Sauna, showers
Reception with local information and rental service of wilderness equipment
English, French, German and Norwegian speaking guides with local and wilderness expertise available
Conference room
Seafood Restaurant by prior booking
Outdoor relaxing areas
Fully equipped pier and marina for deep sea fishing
Catch preserve, deep freezer, boat rental, boat charter
Marina for visiting boats