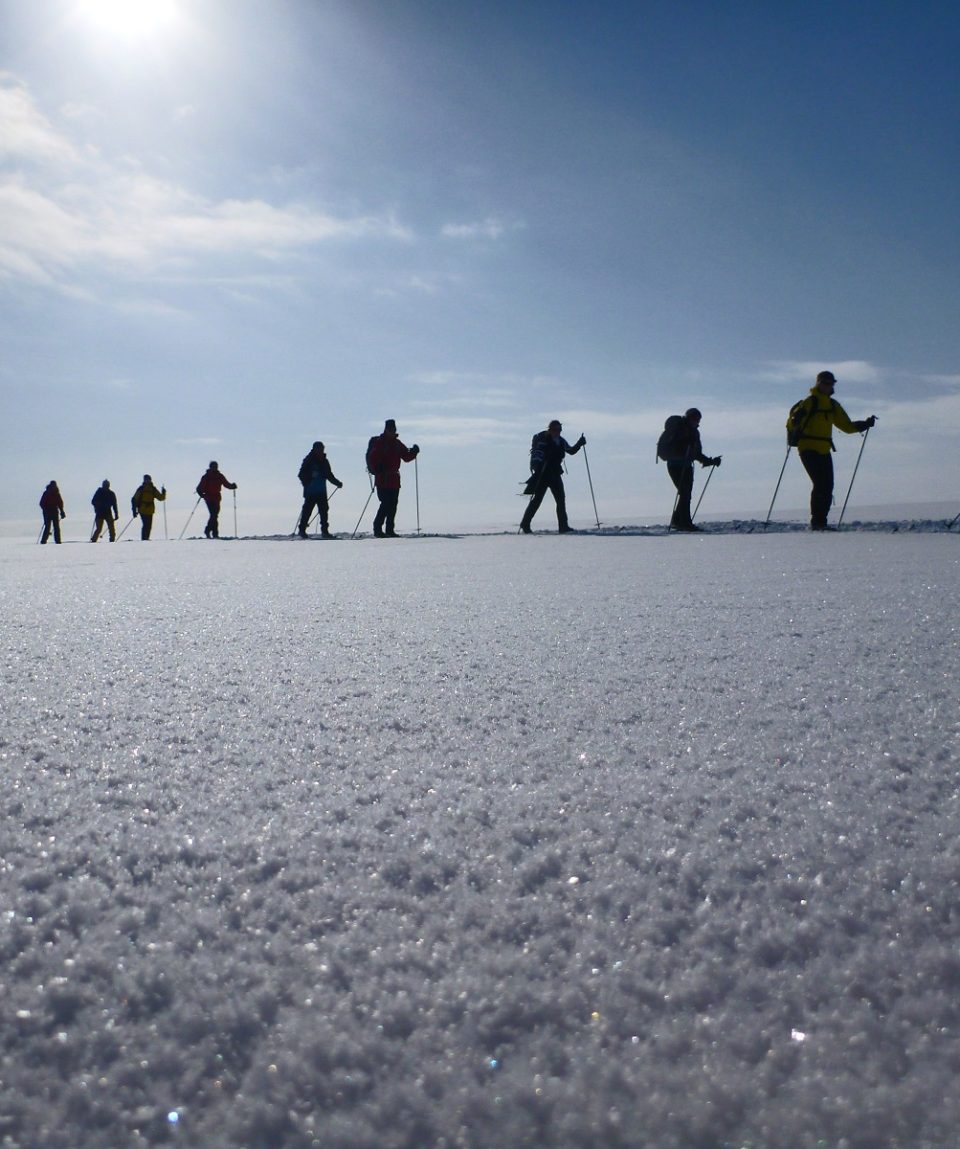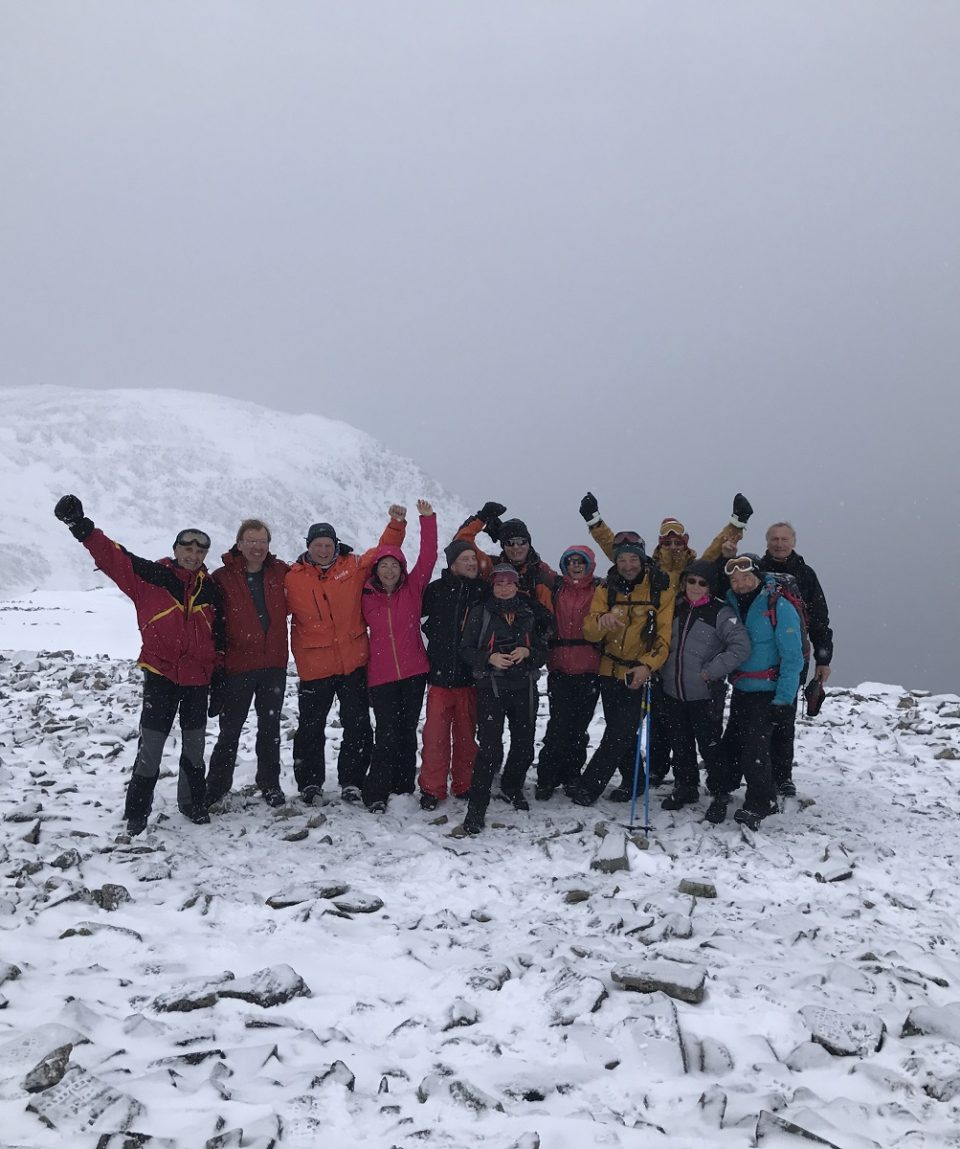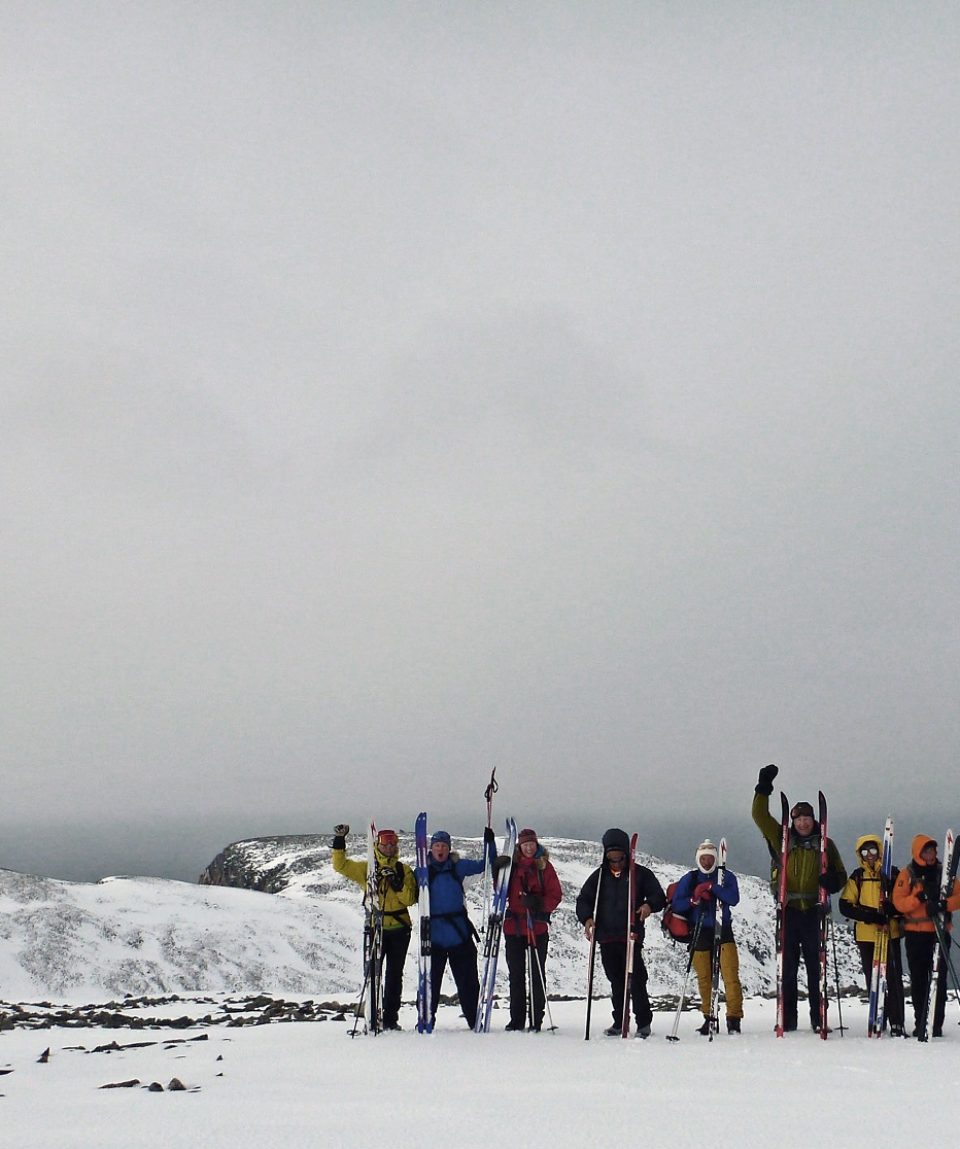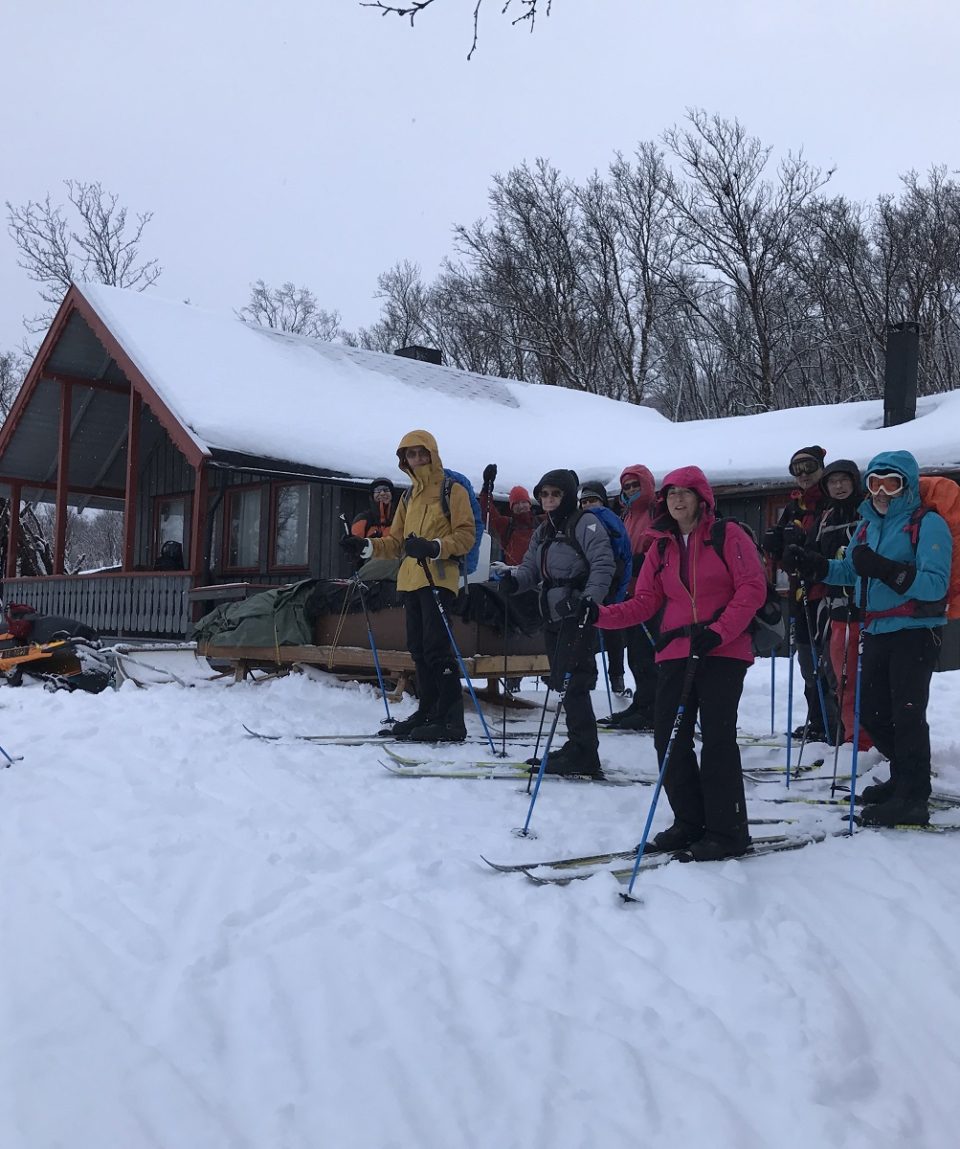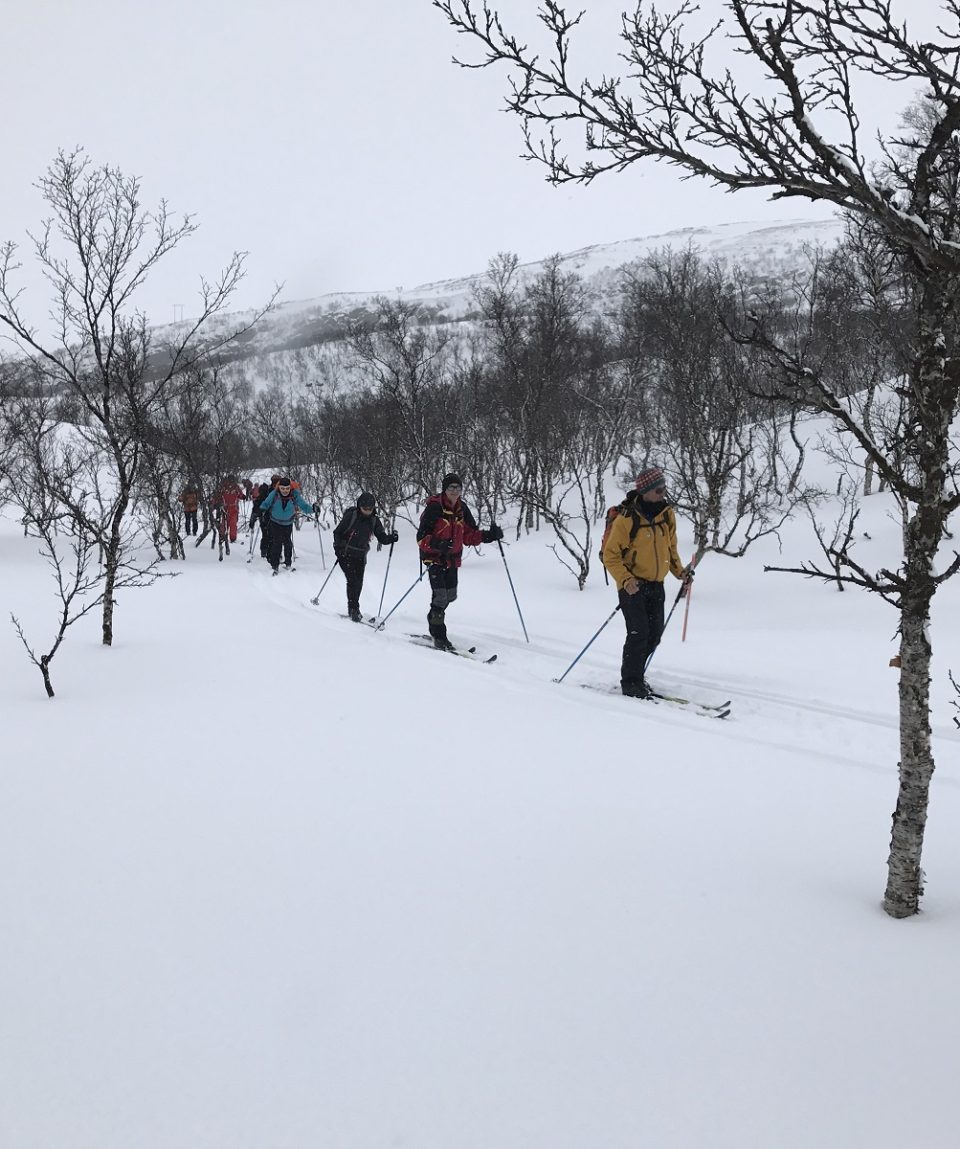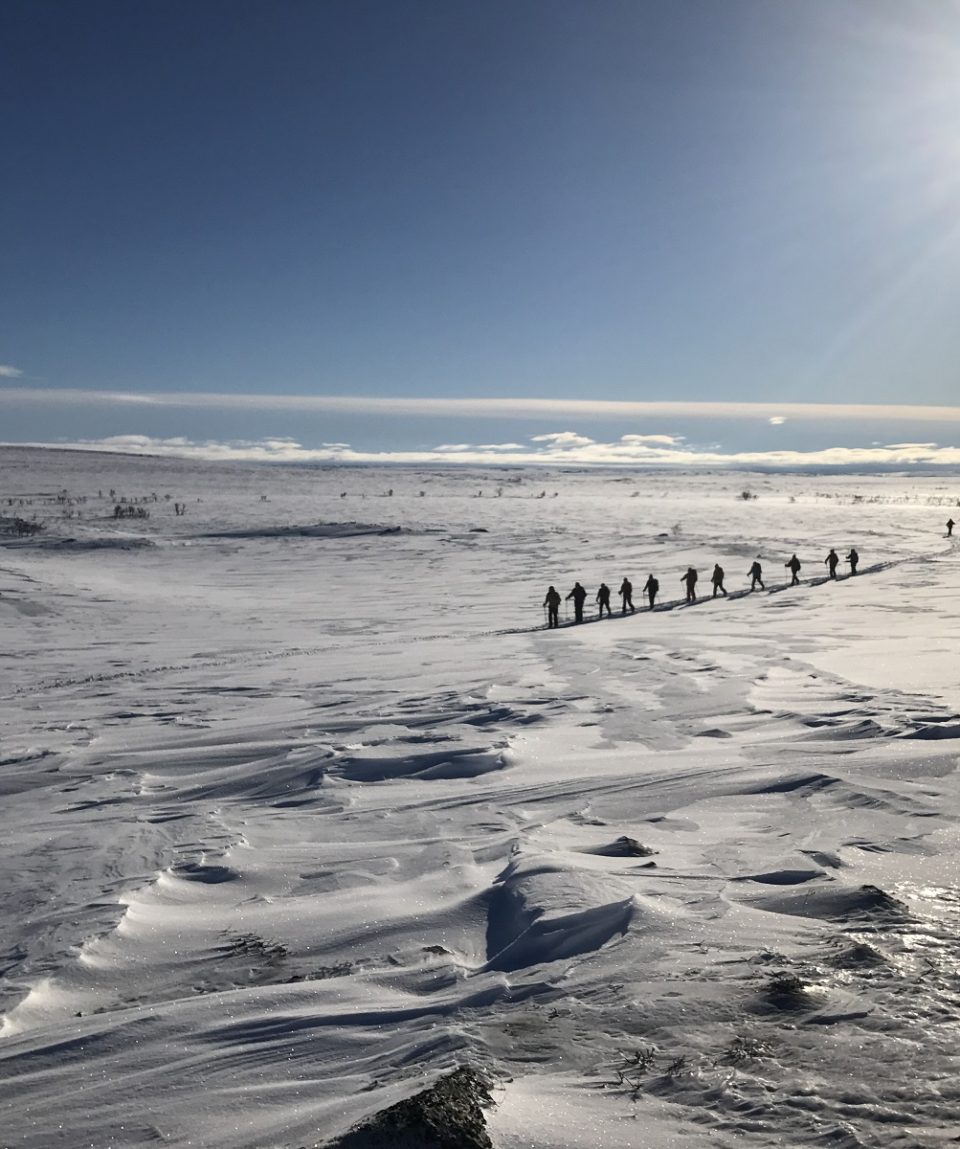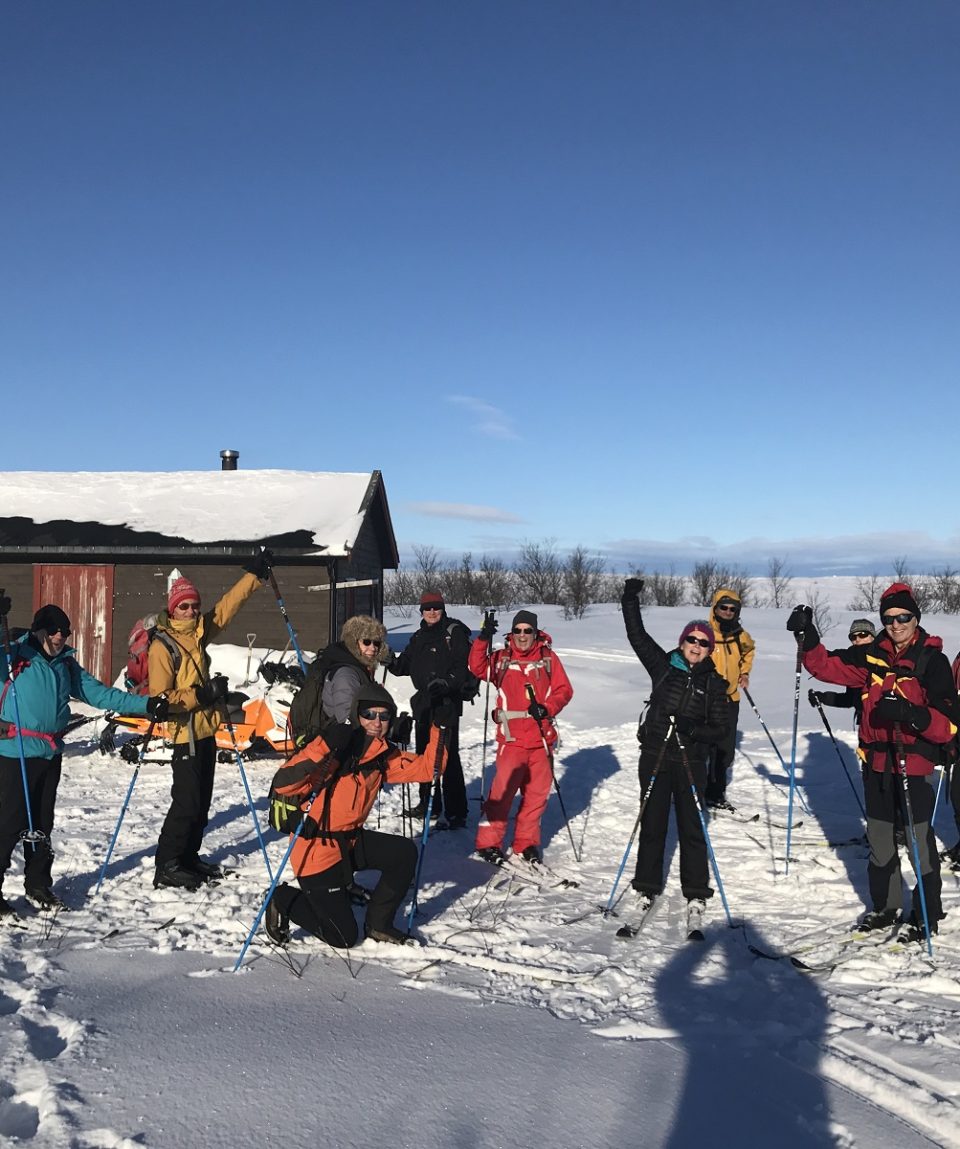 Skiing Expedition from Finland to Norway 15.04.-22.04.2018
From: kr 14.100,00
All about the Skiing Expedition from Finland to Norway 15.04.-22.04.2018.
Welcome to this great cross country skiing expedition through the Finnish and Norwegian Lapland –  170 kilometres – ending up at the northernmost cliff of the European continent – Cape Nordkyn.  Position 71°08.00 Northern latitude.
Experience the forests of Finland through the white desert of the Norwegian mountain plains and the panorama view of the Barents Sea! Luggage and food transported by our guide with snowmobile and sledge. The skiing guide takes you safely through this enormous mountain area.
PHYSICAL LEVEL
A good skiing technique is demanded to be able to follow the long day distances of  this expedition.
Daily distances varies from 25 to 35 kilometres. The temperatures, however, are not going to fall beyond -5c to -15c degrees but in case of strong winds or storms, the progress of the expedition can become very hard.
PERSONAL EQUIPMENT
Cross country skis, ski wax, (neverwax skis is a good alternative), shoes with covers, wind proof outer clothing, woollen socks, skiing gloves, extra mittens, extra fleece or woollen pullover, extra socks, sun glasses/cream, headlamp, sleeping bag, towell, soap, and alpine goggles.
Personal equipment to be maintained and cleaned by yourself during the expedition; soup bowl, flat plate, hot drink cup, drinking glass, fork, knife and spoon.
RENT OF EQUIPMENT
Cross country skis, sticks, shoes, alpine goggles, and sleeping bag can be rented from Nordic Safari AS.
LUGGAGE
Bring personal luggage in a solid bag. Max weight 15. kg. The luggage will be transported on the sledge of the service snowmobile to each overnight cottage. Suitcase and parts of the luggage not needed in the mountains can be sent with our service car to Ifjord and from there To Adventure Camp Mehamn
BACKPACK
During the skiing day You can carry a light backpack with your personal small things needed for the day. Thermo bottle, chocolate, extra windjacket, camera etc.
The tour package inclusions and exclusions at a glance
What is included in this tour?
Items that are included in the cost of tour price.
Transfer from Kirkenes Airport to the Starting Point in Nuorgam Holiday Center, accommodation, full board on expedition, transfers, guiding, and transport of the equipments as described in the program.
Hurtigruten ship tickets from Mehamn to Kirkenes.
Adventure Camp Mehamn
The Adventure Camp Mehamn is located on the Holmen peninsula just across the Harbour of Mehamn fishing village.
Position: 71.02.00 N – 27.50 E
800 metres from Mehamn Airport.
We can offer 5 high standard  Rorbu Fisherman Cottages with 3 bedrooms , each one With 2 single beds, complete equipped kitchen with dishwasher, living room, wifi, flatscreen tv, wc/bathroom, entrance hall, Separate Storage and drying room for outdoor Equipment / clothes.
Balcony With Furniture and a fantastic panorama view of Mehamn Harbour
In our room department we offer 5 rooms with a shared kitchenette, showers /wc.
Facilities for outdoor wilderness adventures all year around in a relaxing atmosphere with a panoramic view over the village of Mehamn and the Barents Sea.
Adventure Camp in Mehamn:
18 separate camping car parking places with electricity, wifi and service room for all campers
Sauna, showers
Wifi
Reception with local information and rental service of wilderness equipment
English, French, German and Norwegian speaking guides with local and wilderness expertise available
Conference room
Seafood Restaurant by prior booking
Outdoor relaxing areas
Fully equipped pier and marina for deep sea fishing
Catch preserve, deep freezer, boat rental, boat charter
Marina for visiting boats